MaaS Migrate, with its advanced Cloud migration methodologies, enables you to migrate any application to the Cloud without any difficulty. It provides you with various intelligent options for migrating applications/VMs to the Cloud.
MaaS offers you the widest range of Cloud migration methodologies based on your business needs and the complexity of your application environment.
These robust migration methodologies allow you to migrate multiple servers in parallel with clear actionable reporting in case of any migration issues.
FEATURES:
Robust Lift and Shift Datacenter Migration
Migrate your entire VM setup quickly from on-premises to the Cloud using Lift and Shift migration. MaaS ensures that your complete server/VM setup will be migrated to Cloud as-is without any data loss and in a secure manner.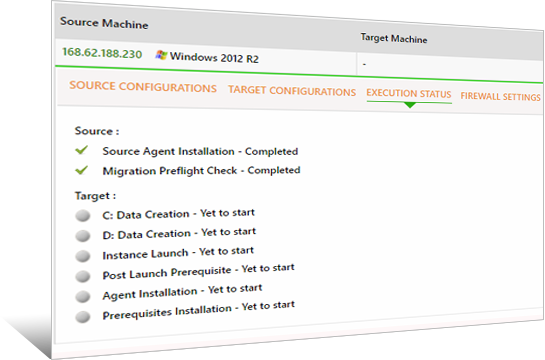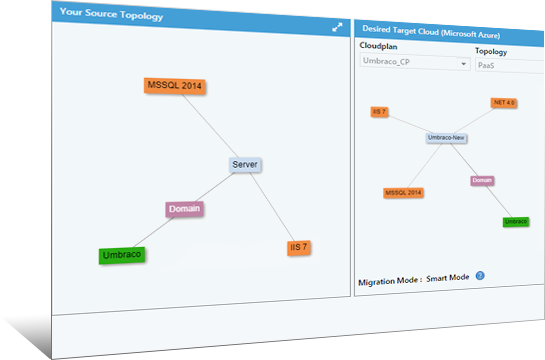 Smart Cloud Migration to Visualize and Re-architect Your Applications
Smart migration helps you in creating a Cloud migration plan based on scenarios generated with Smart Analysis. Smart migration's built-in scripting capability allows you to use workload scripts in your Cloud migration plan and customize your automated Cloud migration process. It also provides you the capability to deploy parts of the application on multiple Clouds to handle hybrid Cloud migration scenarios.
PaaS Migration for App Services and DBaaS
PaaS migration moves your application to Cloud with the ability to integrate PaaS services replacing the workloads while retaining all features of Smart migration. Migrate suitable application workloads to the PaaS services available on Cloud, ranging from App services to DBaaS, based on your preferences. MaaS automates the migration of your workloads seamlessly to these PaaS services on Cloud.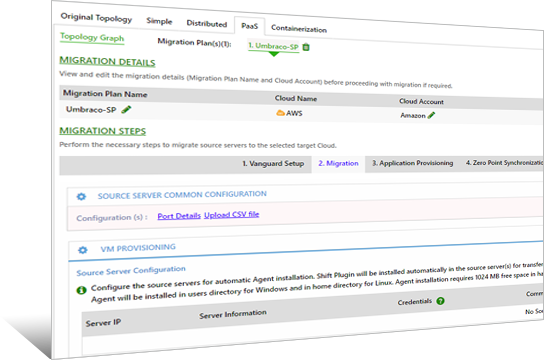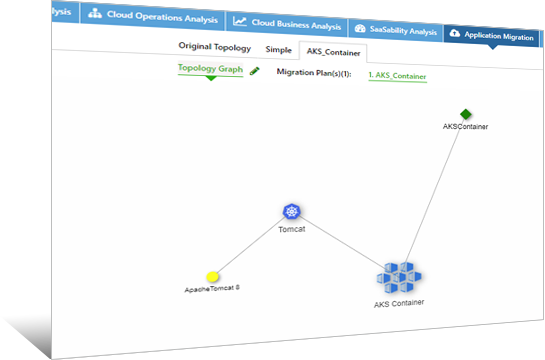 Workload Container Migration to Kubernetes Services
Container migration transforms your application workloads into containers (e.g., AKS, OpenShift) and enables your applications for rapid container adoption. Convert your raw application workloads into containers within a short time or migrate your applications which already have containers in-built to the container services available on Cloud or Docker Hub containers. Also, data will be synchronized in a secure manner after transformation, ensuring no data loss.
Hybrid Migration
Migrate your applications across multiple Cloud environments to fulfill your business needs. You can use any combination of Cloud types - Public and Private, On-premises and Private, or across multiple Public Clouds. For example, select specific application workloads and migrate to your preferred Public Cloud while keeping critical application workloads in your Private Cloud.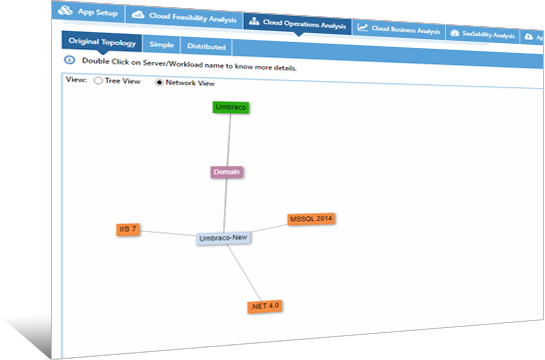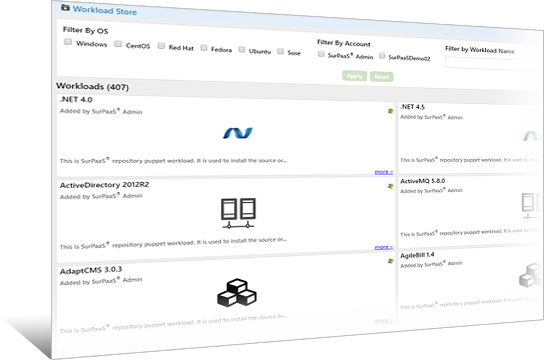 Adaptive Workload Library
MaaS provides you with a repository which includes a collection of workload migration plans to choose from and use during Cloud migration. It can be used to automate your application's Cloud migration process. It saves you time and effort and provides you with a ready-made solution for all your scripting needs to migrate workloads.
Automate and Migrate to Your Preferred Cloud with a 'Single Click'
Analyze your application workloads in detail and generate a suitable application topology for an optimized deployment on Cloud. Automate the application deployment by allowing MaaS to provision required Cloud resources based on your preferred topology, orchestrated with Cloud best practices, and seamlessly migrate to Cloud on the go with a single click.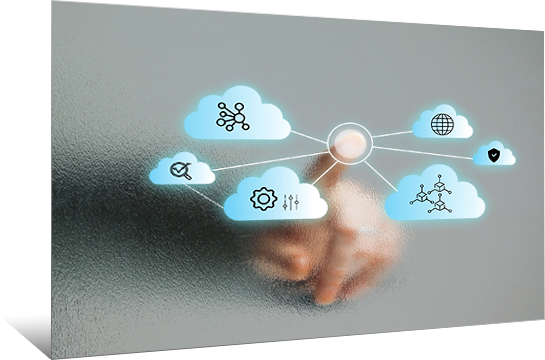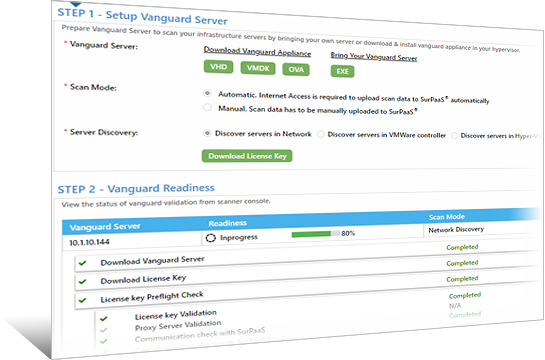 Scalable Vanguard for Cloud Migration
Scalability of Vanguard allows you to migrate any number of servers in parallel and complete migration of huge datacenters to Cloud within a short time. These Vanguards are capable of migrating roughly a minimum of 1,000 servers in a day and are readily available in multiple formats (such as OVA, VHD, VMDK, EXE) for deployment in any of your environments.
Zero-Point Synchronization till Switchover
MaaS, with its Zero-Point Synchronization, automates the synchronization of files and databases from your production server to the migrated Cloud VMs till you switch over completely. Configure the synchronization to continue even after production launch and terminate it based on your need. Migrate applications and their data along with the infrastructure without any risk of losing your data. Synchronize data in parallel from multiple server's drives to Cloud VM's drives.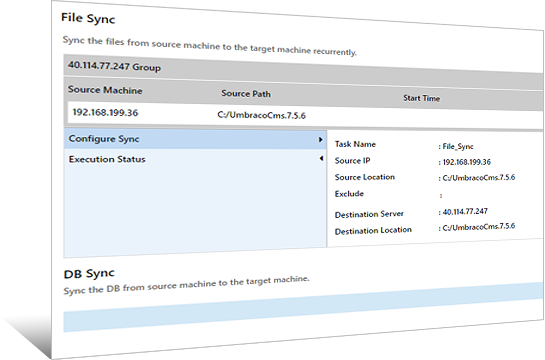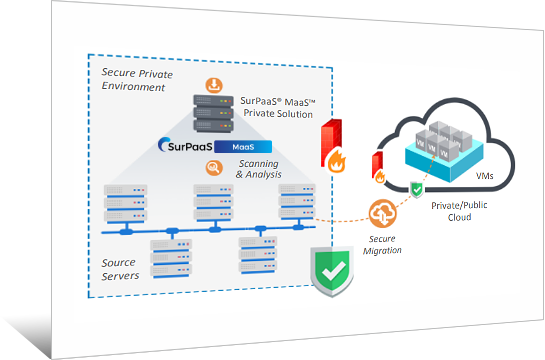 Private Cloud Migration
MaaS Private Solution - an advanced Cloud migration platform designed specifically for private environments - facilitates rapid, repeatable, and reliable migration of your application/infrastructure servers to any Private/Public Cloud. It enables secure migration to Cloud without the need of internet since MaaS setup is available for you as a single-tenant application on your environment locally.