MaaS Assess is a complete Cloud migration feasibility assessment platform that helps you to evaluate your infrastructure and accelerate your Cloud Journey. It generates multiple reports after analyzing your application to help you understand the factors involved in migrating your application to the Cloud. These reports help you to decide on your ideal Cloud migration plan. Strategic decision makers can get all possible Cloud migration scenarios, SaaS compatibility, Operations, and Business analysis reports for any number of applications in their portfolio; and perform various cost modeling quickly and easily.
FEATURES:
Rapid Scan for Lift and Shift Migration
Scan and identify the servers running on your datacenter by utilizing MaaS' in-built network discovery feature. It searches and finds the IPs of all the servers within a few minutes along with the server configuration details used for Cloud compatibility analysis. Identify the servers running on your VMware or Hyper-V environment without compromising security by providing only the VMware controller credentials.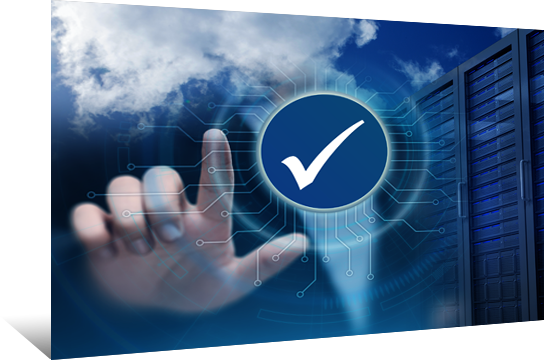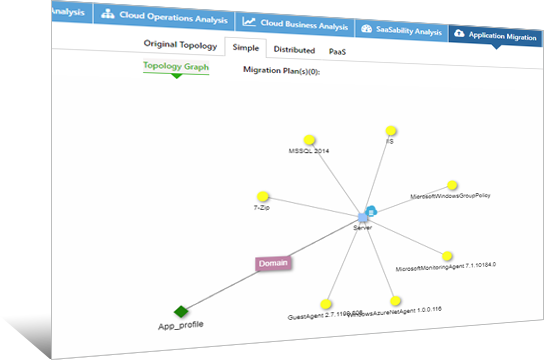 Smart Scanner to Visualize and Re-architect Your Applications
Smart Scanner examines your application in detail and provides multiple smart re-architectures including PaaS with creative visualization. The suggested architectures help your application to achieve a variance of topologies that are elastically scalable, performable, backup-enabled, highly available, clustered for high reliability and cost-effectiveness. You can also custom-build the application's deployment architecture based on our PaaS recommendations.
You already have data? Bring it on.
Translate External Third-Party Data into a Sophisticated Cloud Migration Strategy. Integrate your asset management tool such as – Lansweeper, Movere, & Other Tools – with MaaS smoothly and utilize existing asset management data for rapidly developing your own Cloud migration strategy. MaaS loads required data from these third-party tools using standard templates, performs Cloud assessment of your environment, and identifies your Cloud Readiness in a matter of a few hours.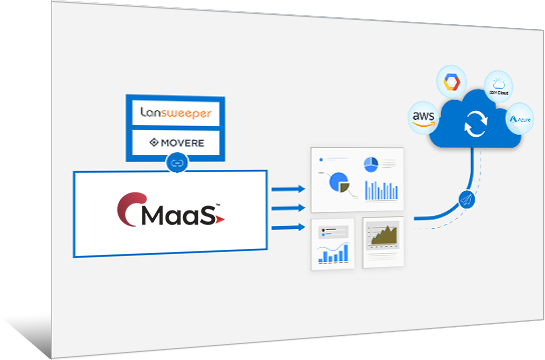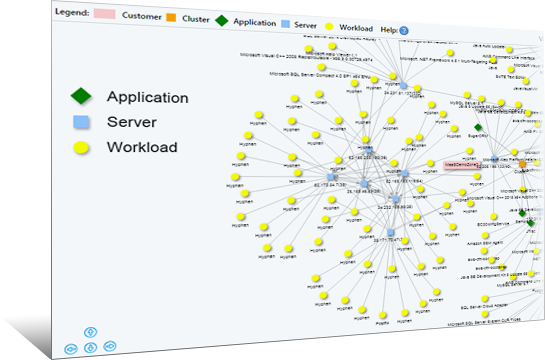 Connected Dependency Graph & Move Group Analysis
Scan your complete network to identify all the available servers and workloads. MaaS shows a clear mapping of dependencies between servers and workloads based on its Move Group Analysis to help you identify applications.
Make Strategic Decisions using R-Lane
By leveraging our detailed analysis combined with R-Lane framework, identify the complexity and criticality of your application and create an accurate migration plan. Create not only a dependency map of your datacenter resources but also a detailed and comprehensive strategy map.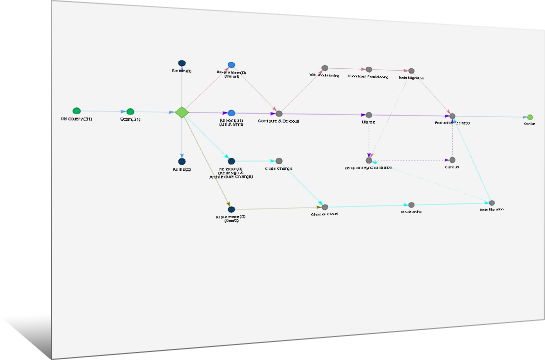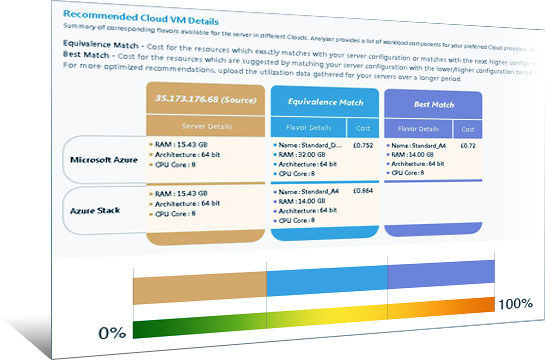 Server Sizing and Refinement Based on Historical Server Trends
Generate Cloud flavor suggestions for your servers based on its performance and utilization tracked during the extended scanning process or the data imported from other system monitoring tools. MaaS™ provides Equivalence Match suggestions with Cloud flavors exactly equal or higher than the original specification of the server. Our Best Match suggestions help you to identify the Cloud flavors based on the server utilization identified by MaaS.
Build Your Own Service Catalog using Our Built-in Machine Learning System
MaaS provides you a Cloud knowledge management system that is capable of storing and managing up-to-date workload and Cloud knowledge with our intelligent and adaptive learning system. You can update and maintain the latest information about the Clouds and workloads. MSPs, CSPs, and SIs can differentiate and brand their Cloud migration solution by tuning the knowledge base for their customers in their respective domains.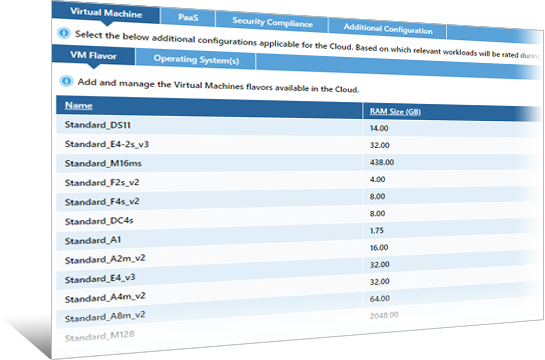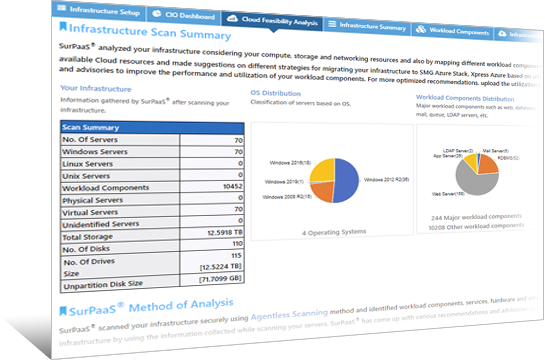 Compendium to Strategize and Accelerate Your Cloud Migration
MaaS generates multiple analysis reports to help you understand the factors involved in migrating your application to Cloud. These reports can be customized based on your needs and downloaded in multiple formats. It provides detailed information such as Cloud Feasibility Heatmap for your workloads and other components, topology suggestions, forecast analysis with cost breakdown on various Clouds, possible SaaS models.
Containerization Advisory Report
MaaS identifies your application workloads' compatibility for containerization and displays the result in containerization advisory report. Based on analysis results, you can move the compatible workloads to containers (e.g., AKS, OpenShift, EKS) for attaining benefits such as portability, scalability, environment consistency, operational efficiency, security, and increased productivity.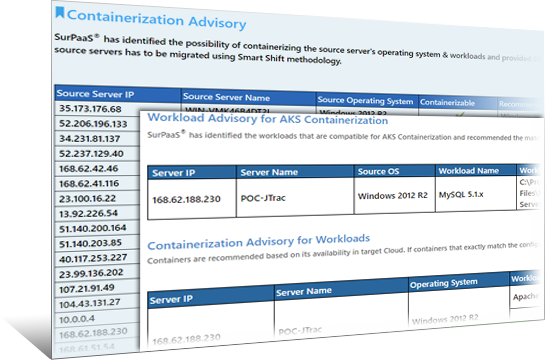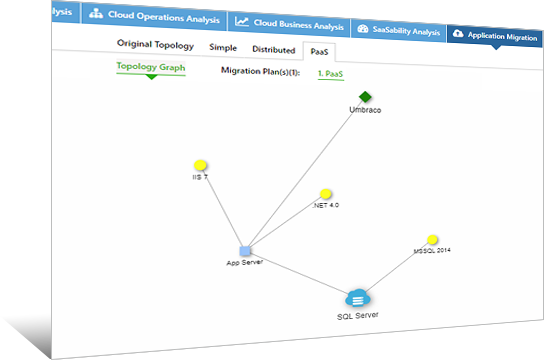 PaaS Service Advisory Report
Check the compatibility of your workloads using MaaS against the PaaS services offered by the Cloud Provider on Cloud. Compare the available PaaS services, ranging from App services to DBaaS, and choose a suitable one for your workloads based on your preferences. MaaS assists you in planning the migration of your workloads to these PaaS services on Cloud.
Objective-Based Analysis
Analyze your application using MaaS for Compliance, Redundancy / High Availability, Backup / Disaster Recovery, Application Scalability. Define the scenario for analysis based on your preferences to explore and assess your options well before the actual Cloud migration. It enables you to narrow down a feasible Cloud migration strategy for your environment based on your business considerations.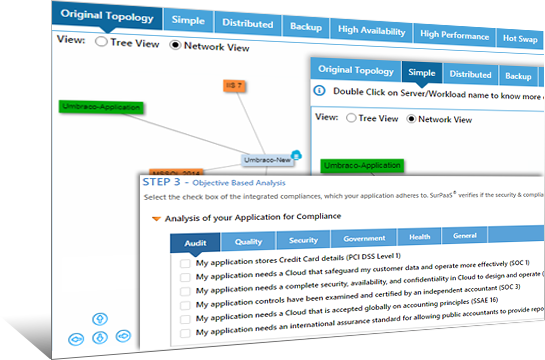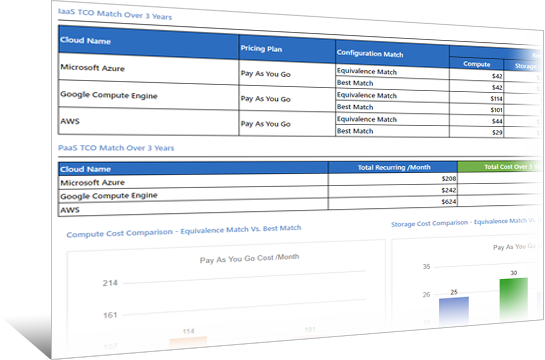 Cost Model and Compare Projections Across Multiple Clouds
Using MaaS, remove the element of surprise by modeling all the factors related to cost and operations planning. Customize the migration cost for each Cloud provider and compare the cost between various Cloud Providers using MaaS. It helps you factor in various operations and business considerations which aids you in planning your Cloud migration strategy efficiently.
Scalable Vanguard Scanner and Vanguard Appliance
Scalability of Vanguard Scanner allows you to scan any number of servers in parallel and complete Cloud feasibility analysis of huge datacenters within a short time. These Vanguard Scanners are capable of scanning roughly a minimum of 1,000 servers in a day and are readily available in multiple formats (such as OVA, VHD, VMDK, EXE) for deployment in any of your environments.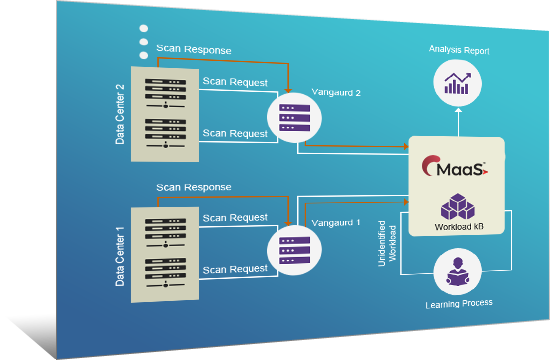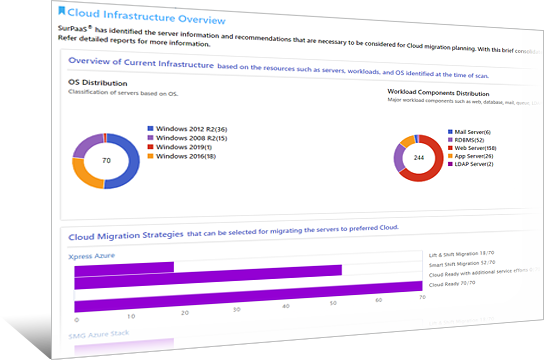 CIO Dashboard
MaaS provides a high-level quick summary of your entire infrastructure / application and Cloud recommendations / advisories through its CIO Dashboard. It is designed specifically keeping in mind the requirements of C-level executives in any organization. It provides them a consumer-centric view of their application's journey to Cloud.
Marketplace Provisioned MaaS™
MaaS is accessible directly from popular Cloud marketplaces such as Microsoft Azure, AWS Marketplace. You can choose MaaS as your migration service via the Cloud portal itself. Utilize all the capabilities of our assessment and migration platform while monitoring the status, progress, and other relevant information on Cloud Migration services such as Azure Migrate.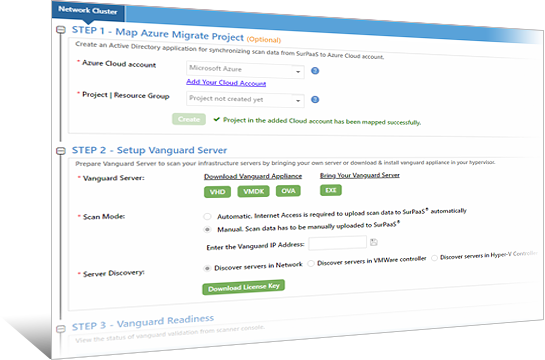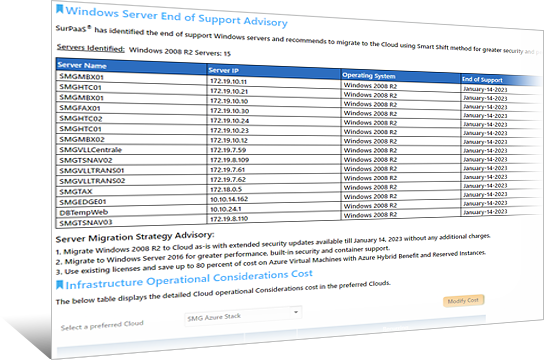 Extend Your Servers' Life or Modernize Them Using EOL Advisories
Identify the EOL Windows Servers and workloads that are running on your environment and can be migrated to Cloud. MaaS allows you to assess if the lifespan of these servers can be extended by another 3 years or migrate them to the latest version on Cloud. You can also evaluate if the servers can be re-platformed into a PaaS service available on Cloud.